Is it so wrong that sometimes I wish Finn were a puppy again?  This past week, my coworker brought her 3 month old Bichon/poodle mix to our offices.  He was barely 6lbs and So fluffy! I yearned for the days when I could pick up Finnegan and hold him in my arms like a baby.Now that Finn is a whopping 65-70 lbs, there is no way that I could physically do that!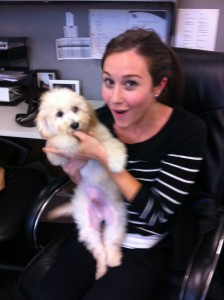 I must say, being around a puppy again made me wish we could get another dog. It would be amazing to have a friend for Finn, not to mention great it would be to add another golden to our family. However, when I start to think about what having two dogs entails… twice the food, twice the pooper scooping, twice the vet bills, twice the boarding bills, etc… I just dont think it makes sense for us right now. Plus, I can't imagine Finn being any better behaved than he already is, I would hate for a little punk puppy to come and mess up all that training ( which I've seen happen with our neighbors dog!).
So for now, I will just bug my coworker to bring her puppy into the office daily. Its good to get your puppy fix every now and then!